It's almost here! Our biggest-ever Black Friday week of deals start Monday, November 22 and runs through Sunday, November 28. We've got some unprecedented discounts on Young Living favorites throughout this week!
Below you'll find a list of products with item numbers for Black Friday. Get ready make your list and stock up on some of our most loved products! There is also a brand new Viya car diffuser! Peep those unicorn oils in there you can't usually buy! I marked them with a 🦄 on the list below. Those might go quick so heads up! 😉
Black Friday deals drop tomorrow, Monday, November 22, at 8 a.m MT, and end on Sunday, November 28, at 11:59 pm MT so fine-tune your holiday shopping list and get ready to save!
This sale is only while supplies last, so now's the time to stock up!
Discount applies to price and PV.
Rewards points cannot be redeemed for Black Friday and Cyber Monday deals.
Subscribe Orders
If one of these is you, then the best way to shop will be to use that subscribe button. You'll get the sale price AND you'll get loyalty rewards points on your order:
You're a brand new customer ordering for the first time
You're an existing customer who's NEVER been on ER or subscription before
You're reactivating your account
Shop orders
If this is you, then you will shop by using the add to cart button:
you're an existing customer or brand partner with an active account who has already ordered on subscribe
Giveaway and Special Offer from Me
Don't forget, I'm giving away a Mini Aria bundle this month and all you need to do to enter is order 200PV. I'm also offering a $10 account credit to anyone who creates their account with my link during the sale an orders at least 100PV.
Alright, let's Check out our biggest BF deals EVER! 💃
Let us know in the comments what you are grabbing tomorrow morning!
👇🏼👇🏼👇🏼👇🏼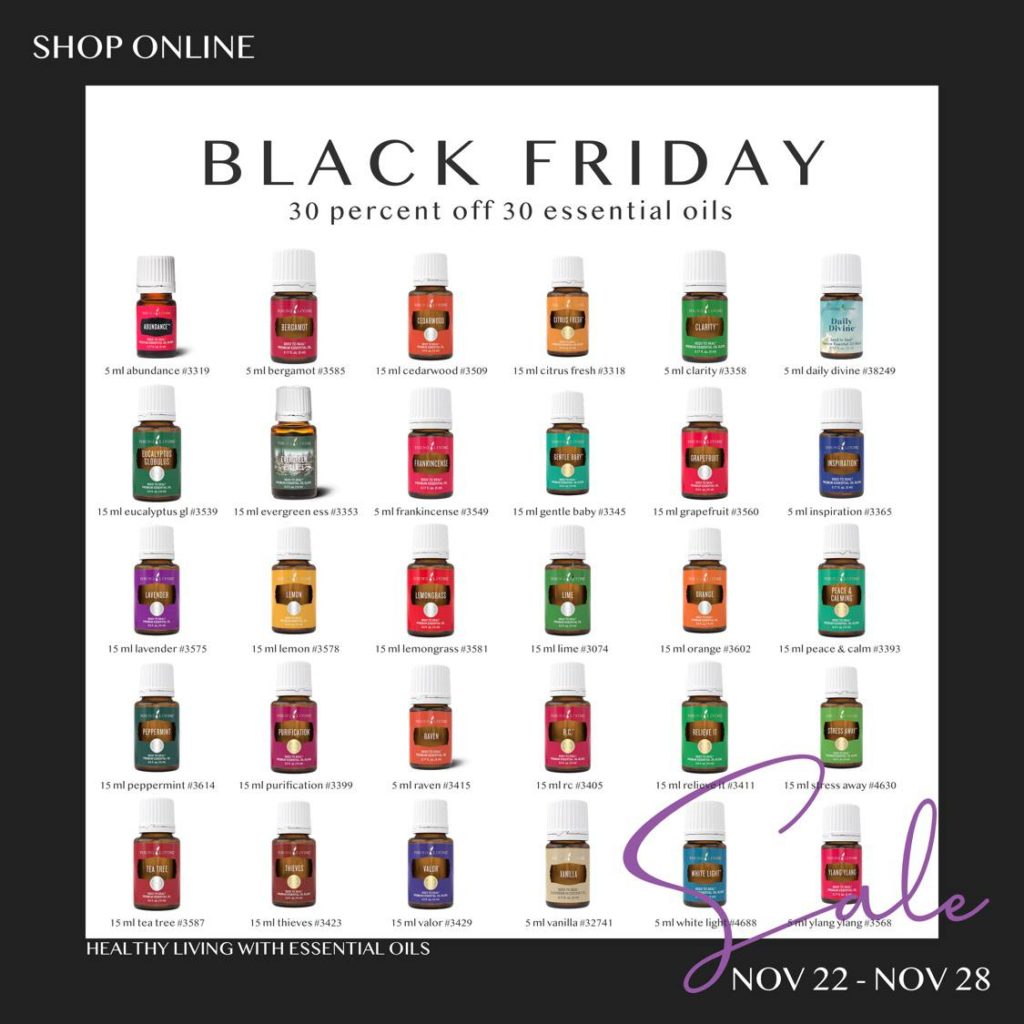 30% Off 30 Oils
Thieves – 15 ml #3423
Lavender – 15 ml #3575
Lemon – 15 ml #3578
Peppermint – 15 ml #3614
Purification – 15 ml #3399
Stress Away – 15 ml #4630
Peace & Calming – 15 ml #3393 🦄
Valor – 15 ml #3429 🦄
Tea Tree – 15 ml #3587
Frankincense – 5 ml #3549
Orange – 15 ml #3602
Vanilla – 5 ml #32741
Citrus Fresh – 15 ml #3318
R.C. – 15 ml #3405
Lime – 15 ml #3074
Grapefruit – 15 ml #3560
Eucalyptus Globulus – 15 ml #3539
Lemongrass – 15 ml #3581
Cedarwood – 15 ml #3509
Evergreen Essence – 15 ml #3353 🦄 (new formula! IYKYK)
Relieve It – 15 ml #3411 🦄
Inspiration – 5 ml #3365 🦄
Clarity – 5 ml #3358
Raven – 5 ml #3415
Abundance – 5 ml #3319
Gentle Baby – 15 ml #3345 🦄
Ylang Ylang – 5 ml #3568
Bergamot – 5 ml #3585
White Light – 5 ml #4688 🦄
Daily Divine – 5 ml #38249 🦄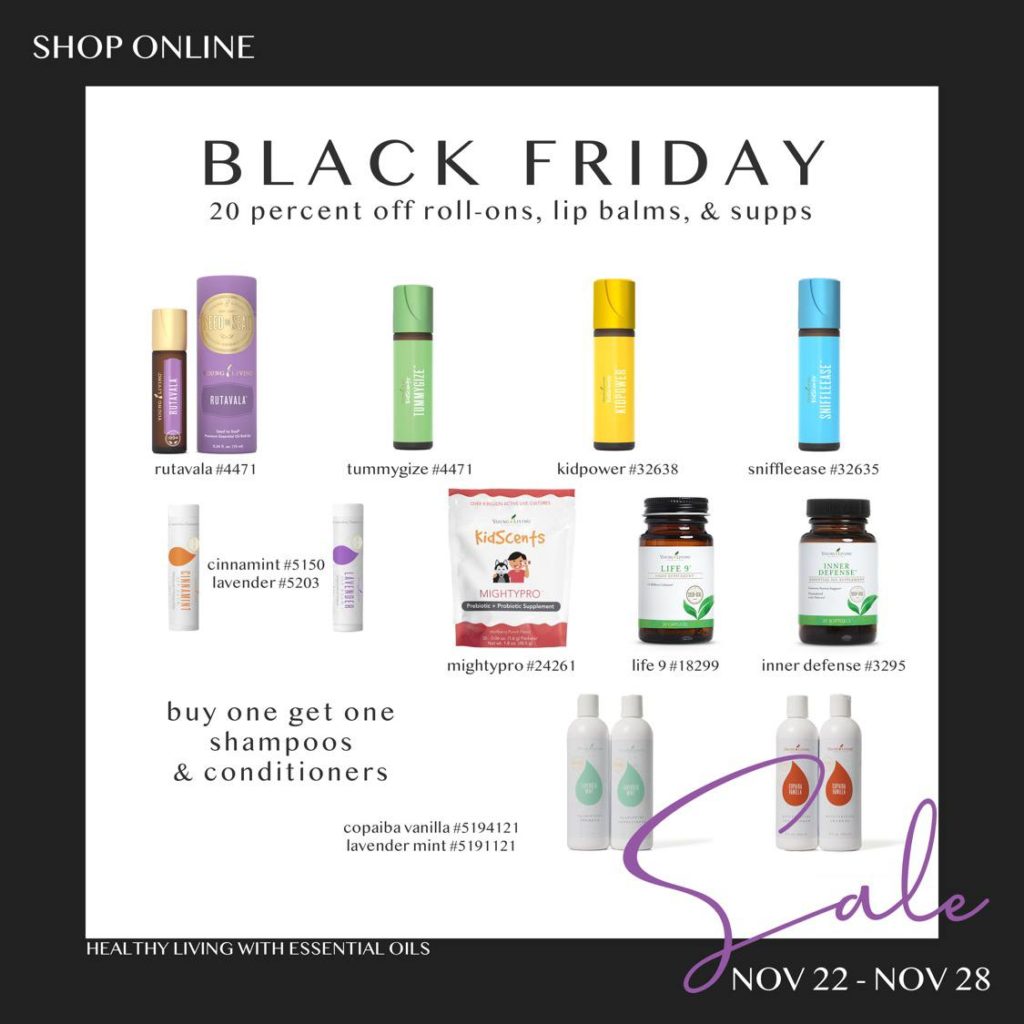 20% Off Roll-ons
Kidpower Roll-On #32638 🦄
TummyGize Roll-On #32634
SniffleEase Roll-On #32635
Rutavala Roll-On #4471
20% Off Personal Care
Lavender Lip Balm #5203
Cinnamint Lip Balm #5150
BOGO Personal Care
Copaiba Vanilla Shampoo & Conditioner #5194121 (original formula)
Lavender Mint Shampoo & Conditioner #5191121 (original formula)
20% Off Supplements
Life 9 #18299
Inner Defense #3295
KidScents MightyPro #24261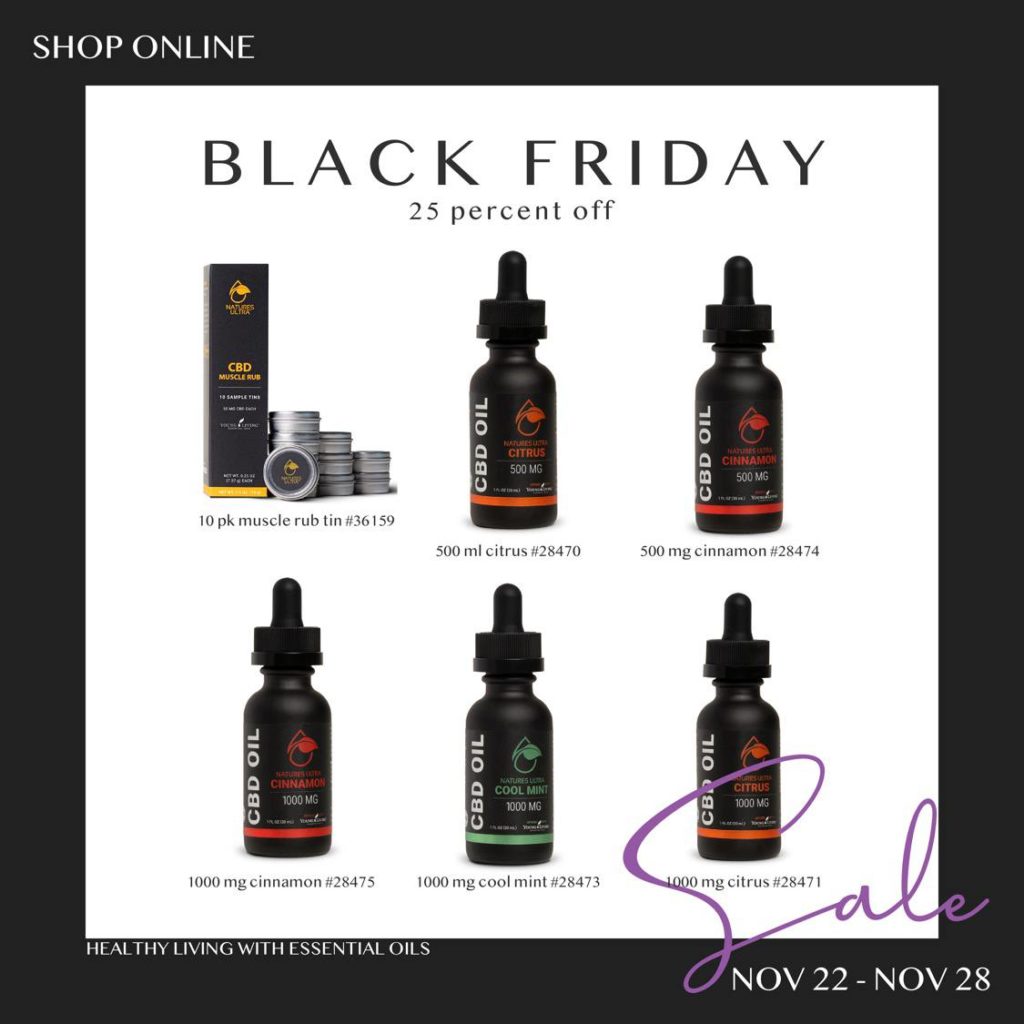 25% Off CBD
CBD Muscle Rub Tin – 10 pk #36159
Cinnamon CBD Oil – 500 mg #28474
Cinnamon CBD Oil – 1000 mg #28475
Citrus CBD Oil – 500 mg #28470
Citrus CBD Oil – 1000 mg #28471
Coolmint CBD Oil – 1000 mg #28473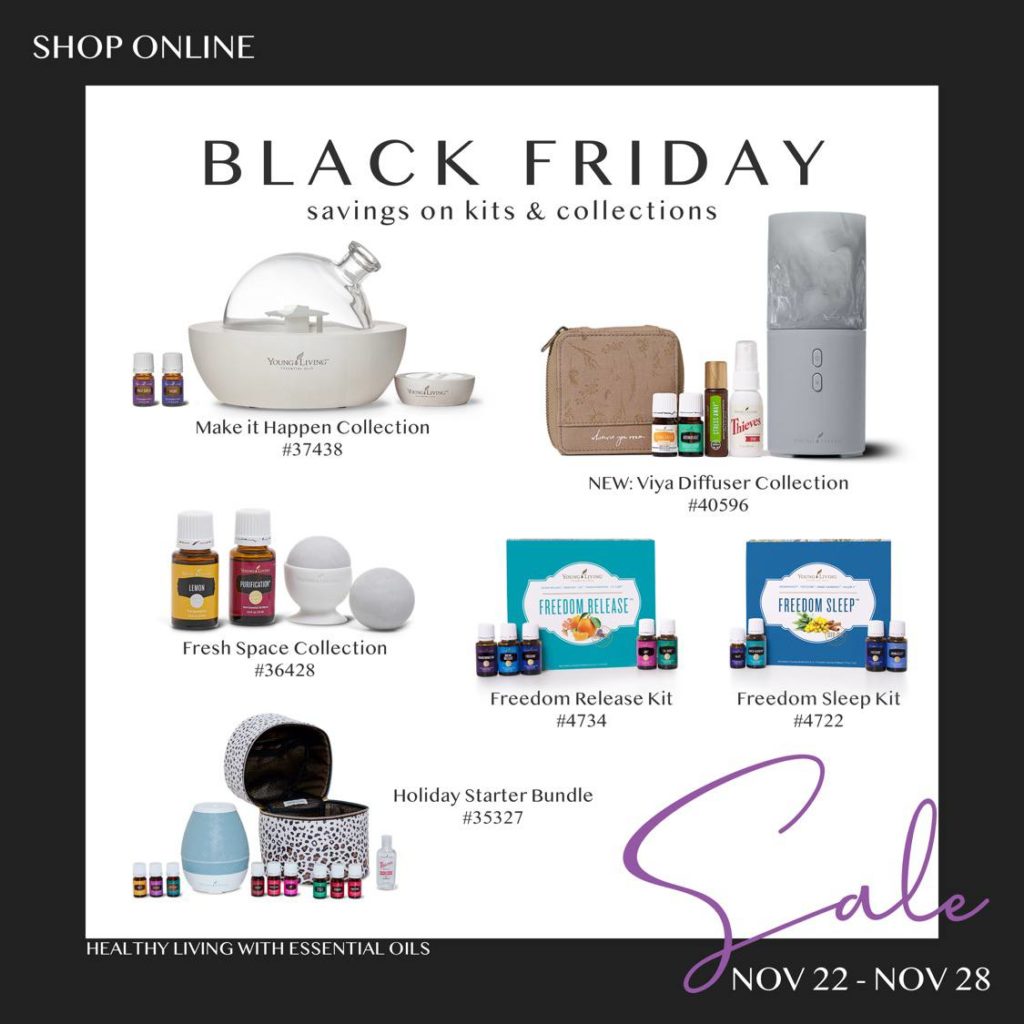 25% Off Kits & Collections
Freedom Sleep Kit #4722
Freedom Release Kit #4734
Holiday Starter Bundle #35327
Fresh Space Collection #36428
Make It Happen Collection #37438
BRAND NEW! Viya Diffuser Collection #40596 🦄 (limited time offer!)