July 2021
Gifts with Purchase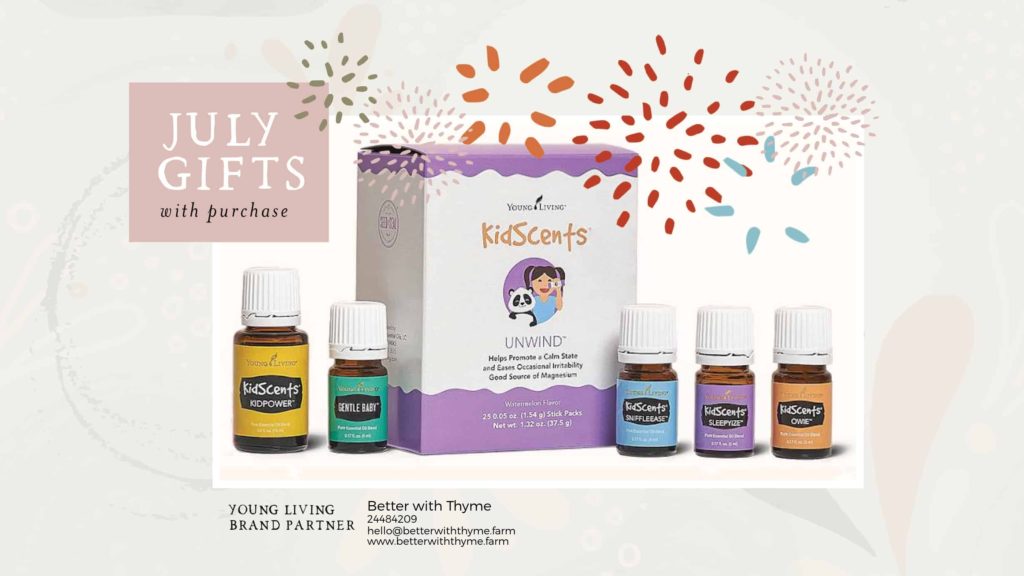 The action-packed time of year is here! Kick off the busy season with July's gift with purchase.
Create impactful morning routines with the inspiring aroma of KidPower and the strength of KidScents Unwind. Pack for new adventures with long-time favorites like SniffleEase and Owie, which will come in clutch for unexpected mishaps. When it comes time to turn in, put everyone's minds at ease with the scents of Gentle Baby and SleepyIze on weary soles and wrists. Qualify today to claim these products plus free shipping.
Empower with positivity. Diffuse KidPower before breakfast each morning to begin the day with confidence and courage. Inspire success. Apply KidPower on tiny wrists for an uplifting scent to carry them throughout their day.

Prepare for peaceful sleeps. Find refuge for parents and little darlings by diffusing this combination of Lavender, Roman Chamomile, and other pacifying oils. Indulge in heavenly hydration. Dilute one drop of Gentle Baby with one drop of carrier oil to achieve the appearance of baby-smooth skin.

Ease overstimulation. Seize serenity at the end of a busy day with the supplement superstars included in Unwind. Whisk away worries. Use a packet of Unwind as part of a relaxing evening routine.

Say no way to sniffles. Save the day this school season and inspire calm breathing by inhaling the scents of SniffleEase. Reach for relaxation. Breathe the reassuring aromas of SniffleEase essential oil blend to find a moment of calm and comfort.

Banish bedtime wiggles. Diffuse SleepyIze before bed and let the calming aromas of Lavender and Roman Chamomile surround you while you dream. Tend and mend muscles. Knead 2─3 drops of the prediluted SleepyIze blend into weary muscles and feet before bed.

When the tears start rolling, reach for Owie's naturally soothing blend of essential oils. Tackle roughhousing. Watch over your wounded by diffusing the scents of Balsam Fir, Tea Tree, and Clove infused in Owie essential oil blend.
BOGO Sale for Essential Oils Day
Young Living will donate 5 percent—up to $300,000—of global sales July 10−11 to the D. Gary Young Global Leadership Fund for Higher Education.
Gary's Great Day Protocol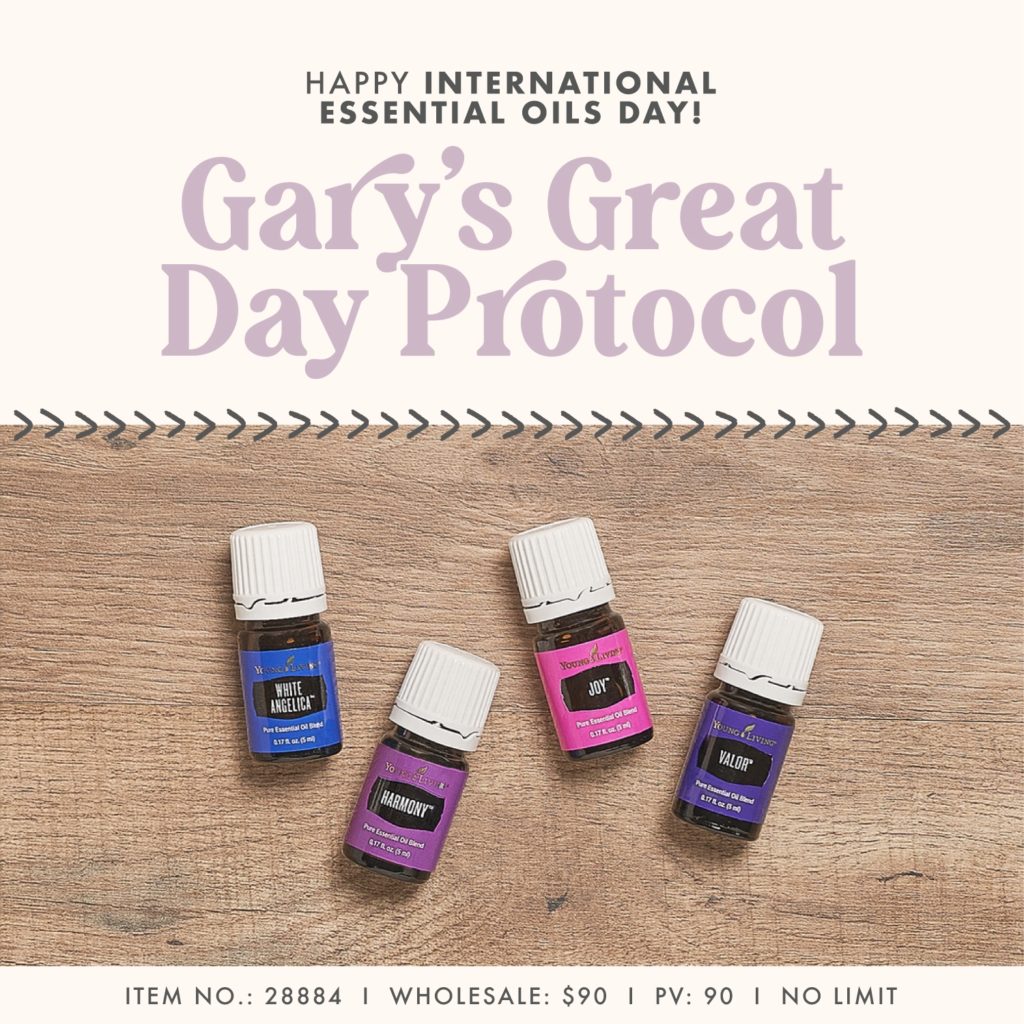 Incorporate Gary's empowering essential oils routine into your daily life! Start by applying a drop of Valor to your left wrist, then Harmony above your belly button, next Joy above your heart, and end by gently brushing White Angelica from crown to toe. 
Includes:
Valor essential oil blend, 5 ml
Harmony essential oil blend, 5 ml
Joy essential oil blend, 5 ml 
White Angelica essential oil blend, 5 ml
Sample Box
We've been asking for it – and here it is! A sample box of many of the most loved YL products! I'll be ordering a BUNCH of these to send out to members!
Includes:
5 Cool Azul Pain-Relief Cream sachets, 2 g each
5 NingXia Red Singles, 2 oz. each
5 Thieves Household Cleaner sachets, 1 oz. each
5 Thieves Waterless Hand Sanitizer sachets, 3 ml each
5 Thieves Whitening Toothpaste sachets, 1 g each
Lavender Sample Card, 1.8 ml bottle with card
Dreamcatcher & Cedarwood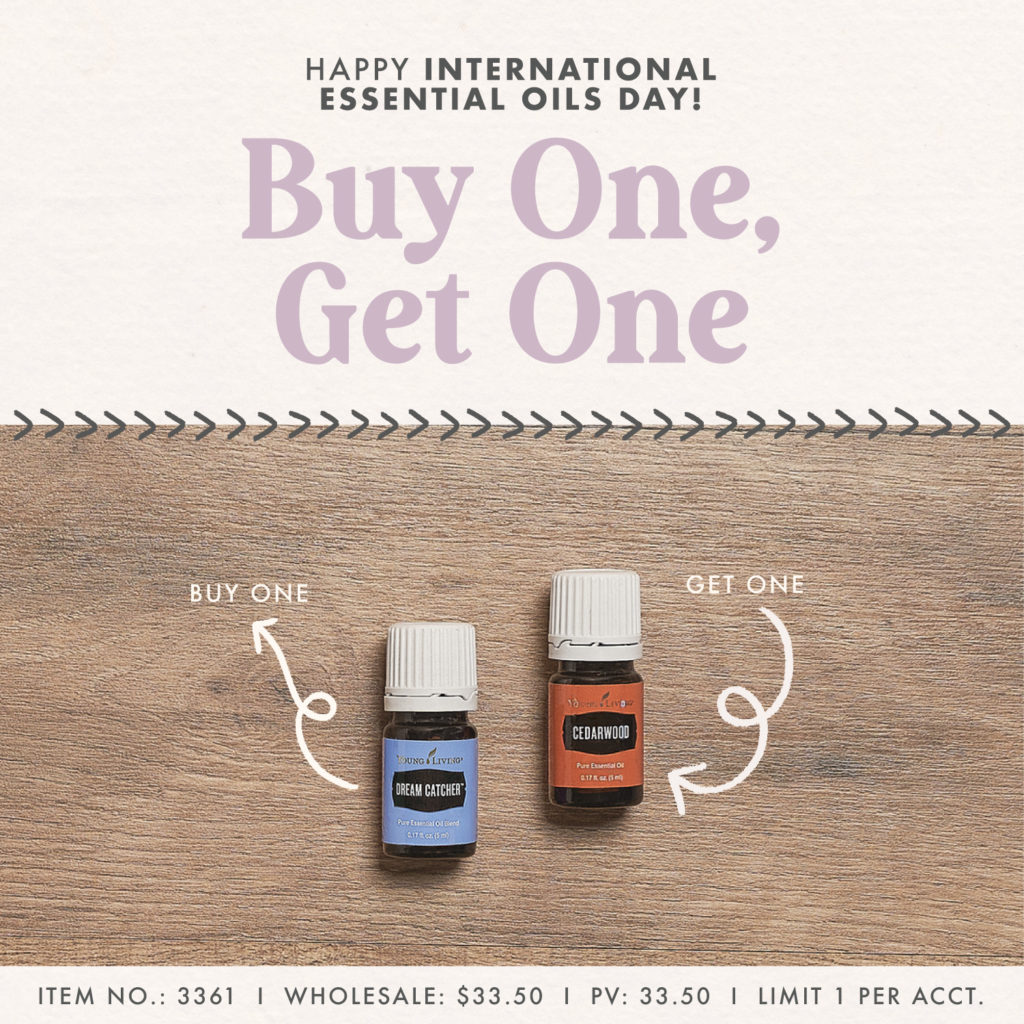 Dreamcatcher: A favorite sleep oil – great to always keep this on hand. It stops night terrors in their tracks. Put a drop across the forehead each night before sleep. This blend stimulates the emotional centers of the brain and promotes greater potential for realizing your dreams.
Cedarwood: Encourages the body to produce melatonin – needed for sleep! Also wonderful for oxygenation – keep this with you in high altitudes it when you need to make sure you are getting enough oxygen. Feeling like the room is spinning? Drop Cedarwood on your crown! Also a key oil for promoting hair growth! It is also very high in sesquiterpenes – so good for the BRAIN and focus! Very calming and grounding. 
Peppermint
Warmer weather is coming and so are the creepy crawlies. Drop peppermint along windows and doorways to repel them! 
This is also a key oil for enjoying the outdoors when there is pollen everywhere! Add 20 drops each peppermint, lemon, and lavender to a 10ml roller and top with carrier oil – roll behind ears each morning and as needed!
A drop on your thumb pressed to the roof of your mouth is great for head tension!
Need to curb your appetite and boost metabolism? Add few drops peppermint, grapefruit, and lemon to a capsule and take daily!
Thieves
Thieves is vital for a supported, healthy immune system.  It is the original healthy-keeper.
I love it in coffee or I make Thieves tea by adding 1-2 drops in a mug of hot water.  I add a dab of honey and a few drops Lemon Vitality too! Fill a capsule with frankincense, lemon, and oregano when you need to kick something fast.
A drop of Thieves under the tongue is spicy but keeps us healthy.
Apply Thieves to the feet to creating a feeling of protection and courage, or diffuse each day to keep your house clean…smelling. 
Thieves Hand Sanitizer kills 99.99% of germs on contact. It contains aloe, which helps prevent your skin from drying out. It's so gentle! Thieves Waterless Hand Sanitizer smells great, is non-sticky, and is easy to use on all ages!
Convention Products Now Available on Essential Rewards
The Charcoal Mask and Lavender and Mint Shampoo & Conditioner are my favorites so far! This month I ordered the Lushious Lemon Oil to try too.