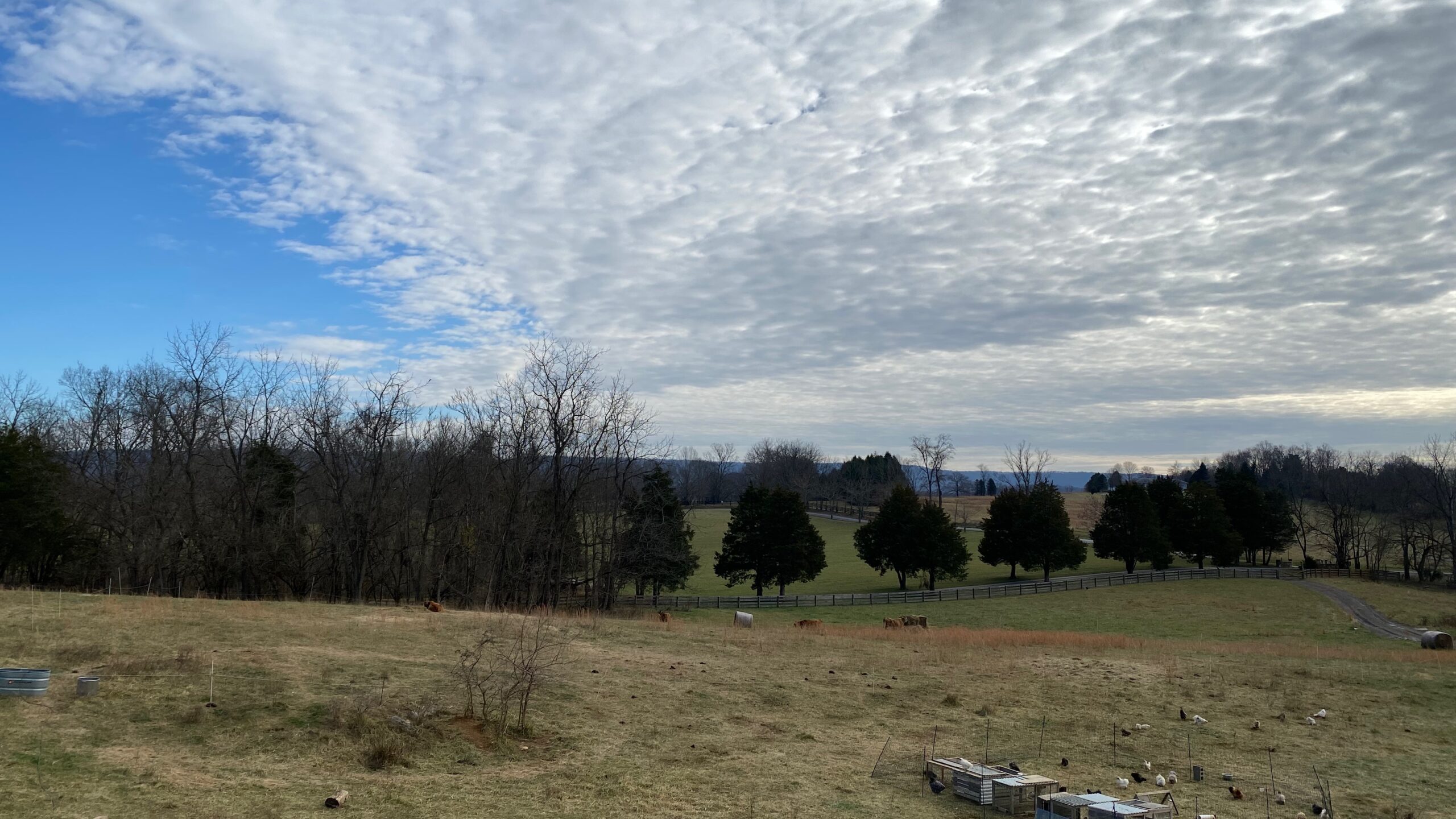 Happy December!
This month we're making our final preparations around the farm before the winter weather turns harsh – especially finishing up our new lambing shelters since we're expecting lambs late this month or early next month!
I've had a continuous pot of broth going since Thanksgiving to keep us all filled with the warm nourishment it provides daily, we've also been continuing to have adrenal cocktails every afternoon (with additional vitamin C from Super C – which you can get free this month!) and I've been really upping our magnesium game lately with double batches of magnesium bicarbonate.
Have you ever made magnesium bicarb? It's very simple and makes it easier for your body to absorb and utilize the magnesium. Most of us (up to 80% of Americans 😮) are deficient in magnesium AND on top of that, stress causes us to use up even more! This is our most important supplement. I also take Mineral Essence daily, to make sure I'm getting the full range of minerals my body needs.
Of course we're also continuing to making sure to support our bodies with enough sleep, and making sure our home is filled with safe products – from our cleaning supplies to our personal care and supplements. Plus all the Christmasy diffuser blends for warm, welcoming smells throughout the house!
Below you'll find seasonal tips, diffuser blends, a Bible reading plan and more for this month, plus info about this month's free gifts and new releases from Young Living. It's a lot, so make sure to save this page to come back to throughout the month and I'll add to it if I find anything else seasonal that I'd love to share with you!
XO Sarah
The Holistic Homestead Course
We welcomed a number of new students to our course in November and we're temporarily closing the doors for the course while we focus on serving our current students and enjoying some rest and family downtime during December.
If you missed your chance to get in during our sale, sign up for the waitlist and be the first to know when we open the doors again!
New Farm Products Launched
We hope to have ewe lambs ready to go to new homes in March. If you're interested in your own babydoll lambs, please sign up to be notified on the product page by clicking on the image below!
We're also starting to add Farm Merch! What else would be useful to you besides a calendar? Contact us and let us know!
Get Togethers At the Farm
This month we are hosting a gathering at the farm. Meet the animals, ask questions and join us for some fun seasonal DIY projects (think gifts to give for Christmas!) that you can take home with you. Contact us for more info if you're interested!
Limited Time Offer
Simplify your holiday season with the limited time Winter Collection of essential oil blends! No figuring out what to put in the diffuser for amazing wintery scents, just pick one and done! These blends also make great perfumes!
Joy to the World
20 Day Bible Reading plan
Preparing the Way
Day 1: John 1:1-5 14-18
Day 2: Luke 1: 1-25
Day 3: Luke 1.57-66 + John 1:6- 9
Day 4: Luke 1:67-80
Day 5: Luke 3:1-6 + John 1:19-41
Jesus' Birth Announced
Day 6: Luke 1:26-38
Day 7: Luke 1.39-45
Day 8: Luke 1:46-56
Day 9: Matthew 1:18-25
Day 10: Luke 2:1-1
Christ is Born
Day 11: Luke 2:8-14 + John 10:1-30
Day 12: Luke 2:15-20 + Isaiah 9:6-7
Day 13: Matthew 1:1-17
Day 14: Luke 2:21-38
Day 15: Isaiah 53
The Three Wise Men
Day 16: Matthew 2:1-12 + Micah 5:2
Day 17: Matthew 2:13-15 + Psalm 2
Day 18: Matthew 2:16-23 + Proverbs 19:21
Day 19: Luke 2:39-52
Day 20: 1 John 4:9-11 + Psalm 98
New: Sprout the Puppy Diffuser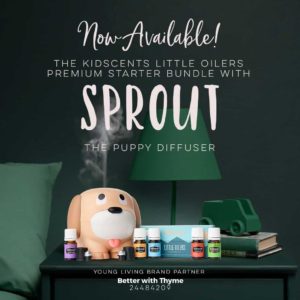 Our little ones know and love the oils specifically blended for kids and now you can get them all in a bundle with a cute new puppy diffuser.
Recipes
Christmas
Check back soon, I am going to post some of my favorite Christmas dinner recipes!
Thieves Tea
Warming, soothing and ever so slightly spicy. This a such a simple winter wellness tool to have in your toolbox. The Thieves blend includes Clove, Lemon, Cinnamon Bark, Eucalyptus radiata, and Rosemary.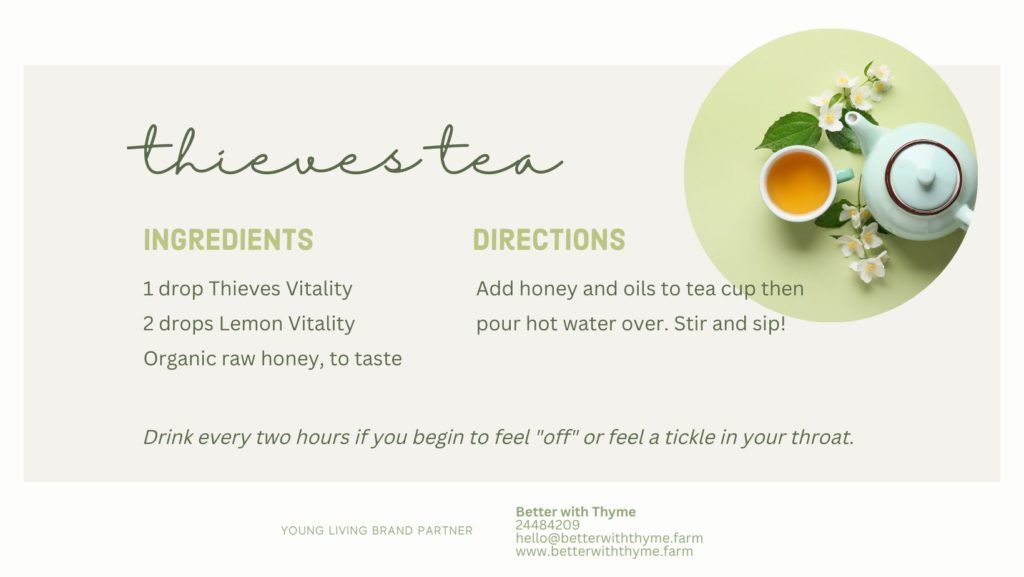 Essentials for a Cozy Winter Home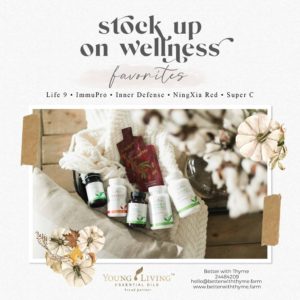 Winter is upon us, and this season often brings lots of gatherings and goings-on. We want to make sure we stay above the wellness line and enjoy this season to its fullest. Here are a few of our must-have products for doing just that!
Stress Away Roll-On: for a moment of calm whenever needed.
Thieves Roll-On: for all the immune support.
Pine Essential Oil: for festive aromas and immune health.
AlkaLime: to use after one too many glasses of egg-nog.
NingXia Red 2 pack: for daily energy & vitality
Christmas Spirit Foaming Hand Soap, 3pk: for festive scents & healthy, clean hands!
Learn more about all our other favorite winter essentials here:
December Diffuser Blends
The Winter Wonderland Challenge Is Here! Every day during the month of December we are diffusing the Evergreen Essence blend! So simple but powerful investment in your wellness this month!
If you're a current customer or brand partner, you can also access our team diffuser calendar with a new blend for every day of the month. Let me know if you need help finding it!
December's Gifts with Purchase
Swipe through to see all the gifts and ideas of how to use them! You definitely do't want to miss a free bottle of Peace & Calming. It's Peter's number one go-to oil, great for kids who need re-centering and it's our cow Mulberry's absolute favorite. She will let us know if we forget to bring it at milking time!