Hercules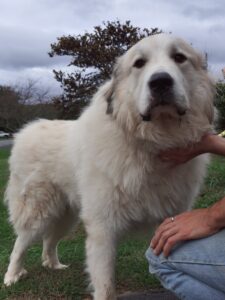 Hercules is a badger male from our 2022 litter (he'll be 2 years old in January). He was adopted by a young family as a puppy but recently came back to our farm since the family's new baby is allergic to dogs and their fencing was not secure enough for him to stay outdoors.
Hercules has a wonderful temperament with both adults, children and other dogs. He has been naturally reared his entire life (including no vaccines and raw diet) and he is intact.
Currently Hercules is accustomed to being in a house, and would love to transition to a home where he would be appreciated indoors, however he is outdoors on our farm and we will continue to work with him becoming more comfortable outdoors and re-exposing him to livestock. There is potential he could become a guardian.
Hercules has been known to escape fencing that he can jump over, but he has learned to respect electric net fencing. A leash or secure fencing is a must with him. Secure fencing is a physical fence at least 4 feet tall, non-climbable an electrified at the top and bottom, or an electric fence such as a sheep net.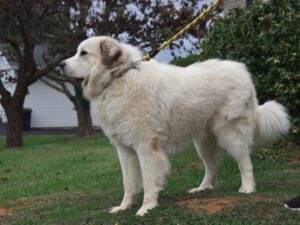 Please contact us with any questions or if you are interested in adopting Hercules.