Better with Thyme is a family farm, inspired by permaculture ideals and focused on self-directed education
Background
Moving from the NYC area, our family purchased farmland in the eastern panhandle of West Virginia. We are building our dream one step at a time. Our hope is to create a place to regenerate both the land and the people who live on it.
We are developing the land in a way that allows children who are self-directed learners to participate and shape the environment as partners with the adults.
We are looking for one or two other families who share our ideals of permaculture, non-violent communication and self directed education to live with us. If you're interested, please contact us!
Currently at the farm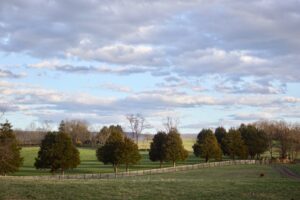 Our farm is primarily pasture and we are beginning to add gardens and trees as well as starting to manage the wooded areas of the farm. We are raising a variety of animals and our goal is to blend the pasture and wooded areas into a silvopasture style agroforestry system, that will provide most our family's food and extra to share with others.
After nearly two years of being off the grid, we were finally connected to electric and Internet service at the farm and we have started to update our website.
We hope to begin updating our blog and Vlog in the near future. We will also resume the monthly farm updates via email as soon as we're able to. Please join our mailing list to follow our progress!
Offerings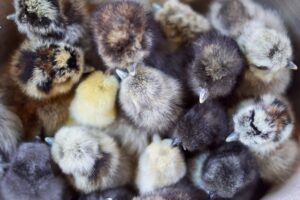 We are currently offering hatching eggs both for local pickup and we ship throughout the US. We sell chicks and chickens locally and are beginning to offer seeds, seedlings and plants from our permaculture garden. We occasionally have livestock guardian dog puppies available. We have chicken and duck eggs for eating in the spring and summer.
Organic, permaculture management
If you're like us, you probably want to know whether the farm you're buying from is organic or biodynamic. We are not certified by any third parties, but you are welcome to ask us any question you have about our land and animal management and we will be happy to answer.
Our farm had been used to cut hay for 15 years prior to us buying it, so there were no monoculture crops or spraying on our property long enough for any previous chemicals to likely have broken down.
Since we took over managing this farm we have been working on building biodiversity in the soil, plants and animals to make a cohesive, healthy and whole system, without any imports. We don't spray anything on our plants or add anything to our soil besides the nutrients from breaking down plants and animal manure.
We feed our animals from our land as much as possible and any feed we purchase from off site is organic and free from both corn and soy. We also offer our animals blocks of sea salt and minerals. The only material we have added in our gardens is cedar mulch and wood chips.