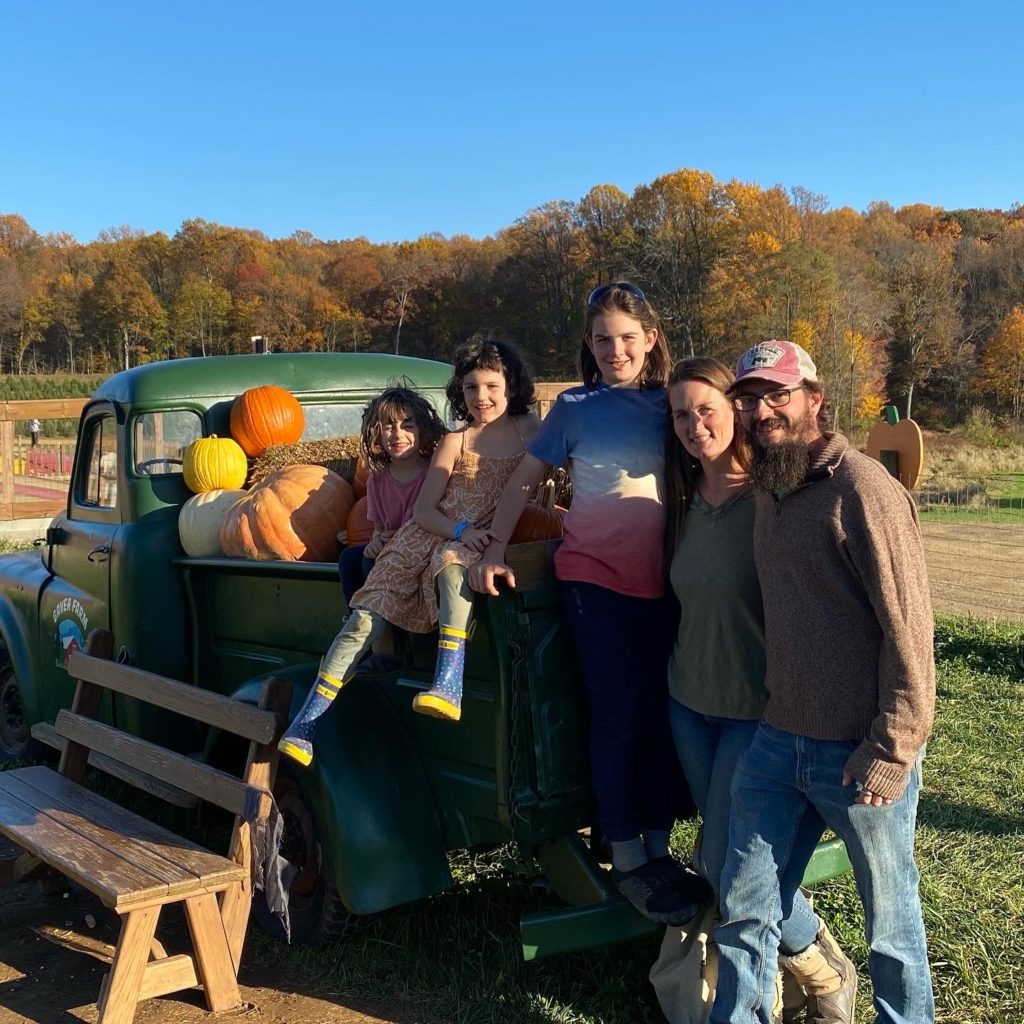 Happy November!
We're entering into solar winter and I'm spending more time in the kitchen cooking warming foods and increasing our daily broth intake as well as staying on top of our supplements and making sure our wellness cabinet is stocked. We're also still making sure we're supporting our bodies with enough sleep, and making sure our home is filled with safe products – from our cleaning supplies to our personal care and supplements. Plus all the cozy diffuser blends for warm, welcoming smells throughout the house!
One new supplement we started recently that is really helping Peter sleep better is an Adrenal Cocktail. Check out my latest blog post if you'd like to learn more about it.
Below you'll find news about new farm products and new Young Living products, recipes, seasonal tips, diffuser blends, DIYs, free gifts you can earn from Young Living this month and how to use them. It's a lot, so make sure to save this page to come back to throughout the month and I'll add to it if I find anything else seasonal that I'd love to share with you!
XO Sarah
The Holistic Homestead Course
Follow us on Instagram for a big announcement about the course on Monday, November 21st! We have a fun plan for this year's small business Saturday.
New Farm Products Launched
We're expecting lambs around the New Year and hope to have ewe lambs ready to be picked up in March. Depending on how many ram lambs are born, we should also have a fair amount of extra pasture raised meat available next fall. If you're interested in either, please sign up to be notified on the product pages!
We're also starting to add Farm Merch! What else would be useful to you besides a calendar? Contact us and let us know!
Get Togethers At the Farm
During the months of November and December we are planning to host gatherings at the farm. Meet the animals, ask questions and join us for some fun seasonal DIY projects that you can take home with you. Contact us for more info if you're interested!
Limited Time Offer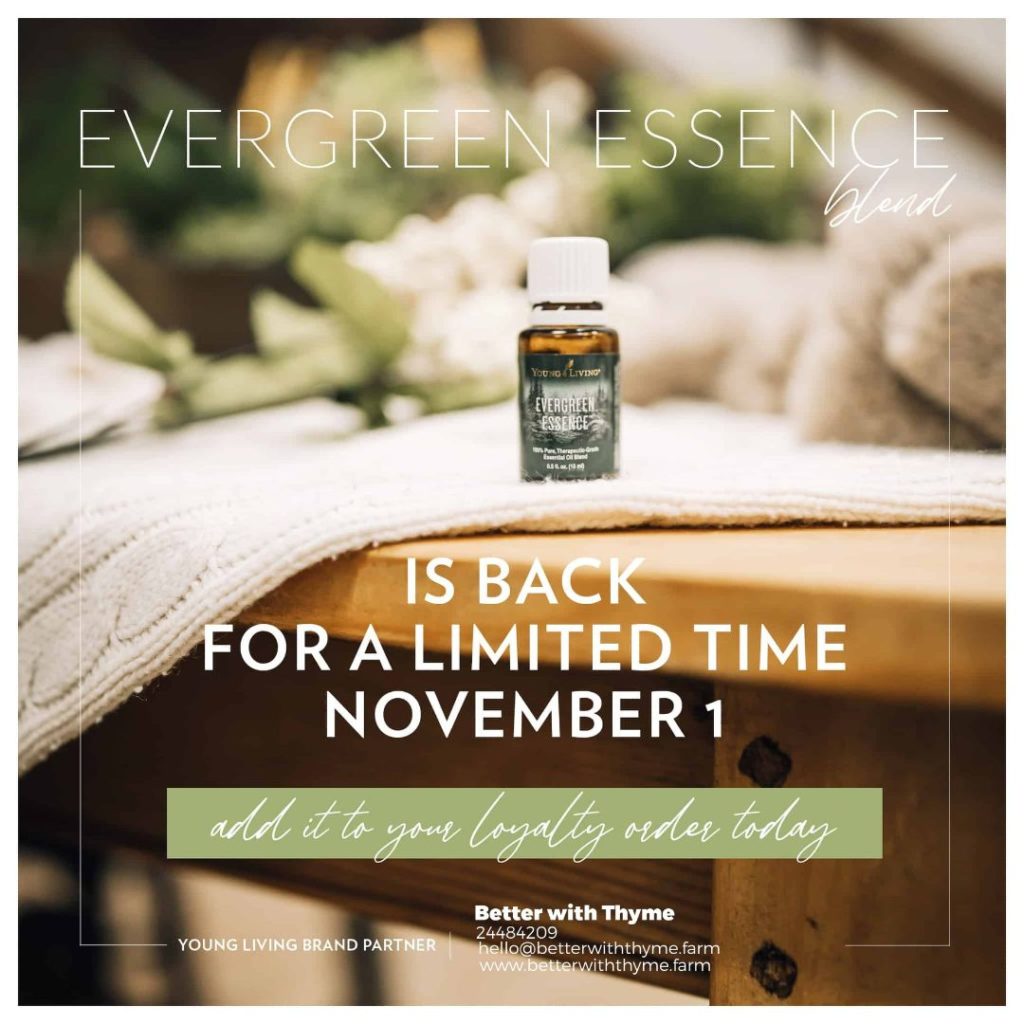 Warm up your holiday season with the limited time Evergreen Essence essential oil blend! This seasonal favorite will bring the clean, crisp smell of snow-draped forests into your home. Here are some ideas to use Evergreen Essence throughout the season:
Sprinkle a few drops on logs before burning in the fireplace
Diffuse for an intoxicating feeling of protection in your home
Infuse greeting cards during the holidays
Place a few drops on Christmas ornaments, pine cones, gift basket shred, and gift bows
Use in DIY recipes (room spray, linen spray, carpet freshener, etc.)
Apply generously when going out in public, at gatherings, or when you're around a lot of people. And when you're going to be hugging lots of people.
Recipes & DIYs
Thanksgiving is one of our favorite holidays, as we welcome our extended family, give thanks for another year of abundance and prepare homemade dishes from food grown on the farm as much as possible. Check out some of our tried and true Thanksgiving recipes, that are mostly dairy and grain free below.
This year we will also be incorporating our raw milk and experimenting with Einkorn since we now know we can all tolerate it! Woohoo! I'll add any new favorite recipes ASAP for you to try too!
PS The stuffing and cranberry sauce recipes in the link below are always crowd pleasers!
Immune-Boosting Apple Cider
So simple! Just simmer organic apple juice with cinnamon sticks and whole cloves then add 1 drop of Thieves Vitality per 6 ounce serving of juice.
Thieves Tea
Warming, soothing and ever so slightly spicy. This a such a simple winter wellness tool to have in your toolbox. The Thieves blend includes Clove, Lemon, Cinnamon Bark, Eucalyptus radiata, and Rosemary.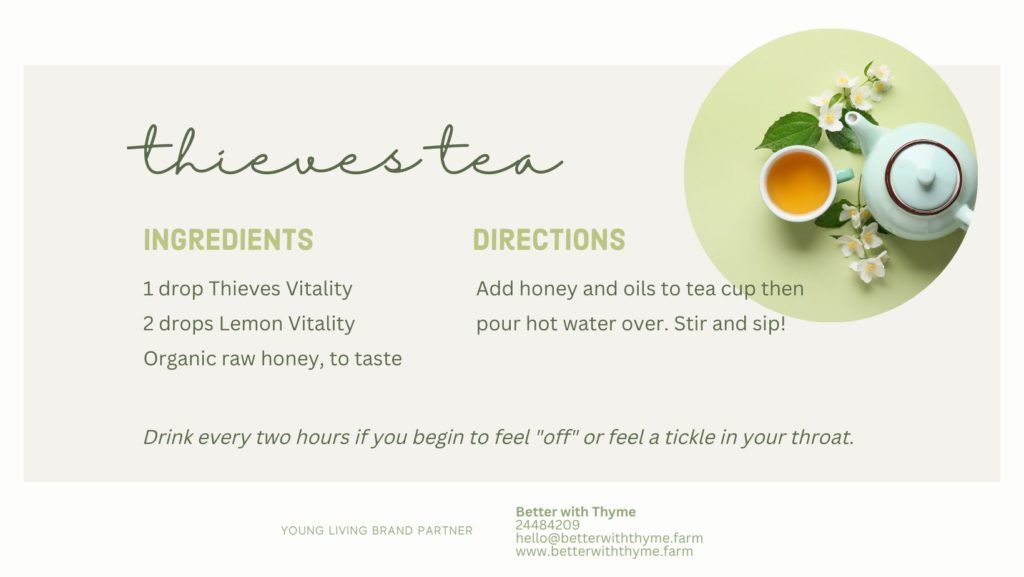 New Wellness Bundles Launched
I am over the moon with these new bundles!
Everything you need to make sure your home smells amazing and is sparkling clean without any of the negatives of conventional cleaning products, just pure plants and just in time for the holidays.
Order the Thieves home bundle your first month and then the Premium Aroma bundle your second month (or anything else you want at least 50PV) and Young Living will send you a free diffuser with your second order.
Click either of the images below to learn more/purchase. The discounted bundles are available for new and existing customers!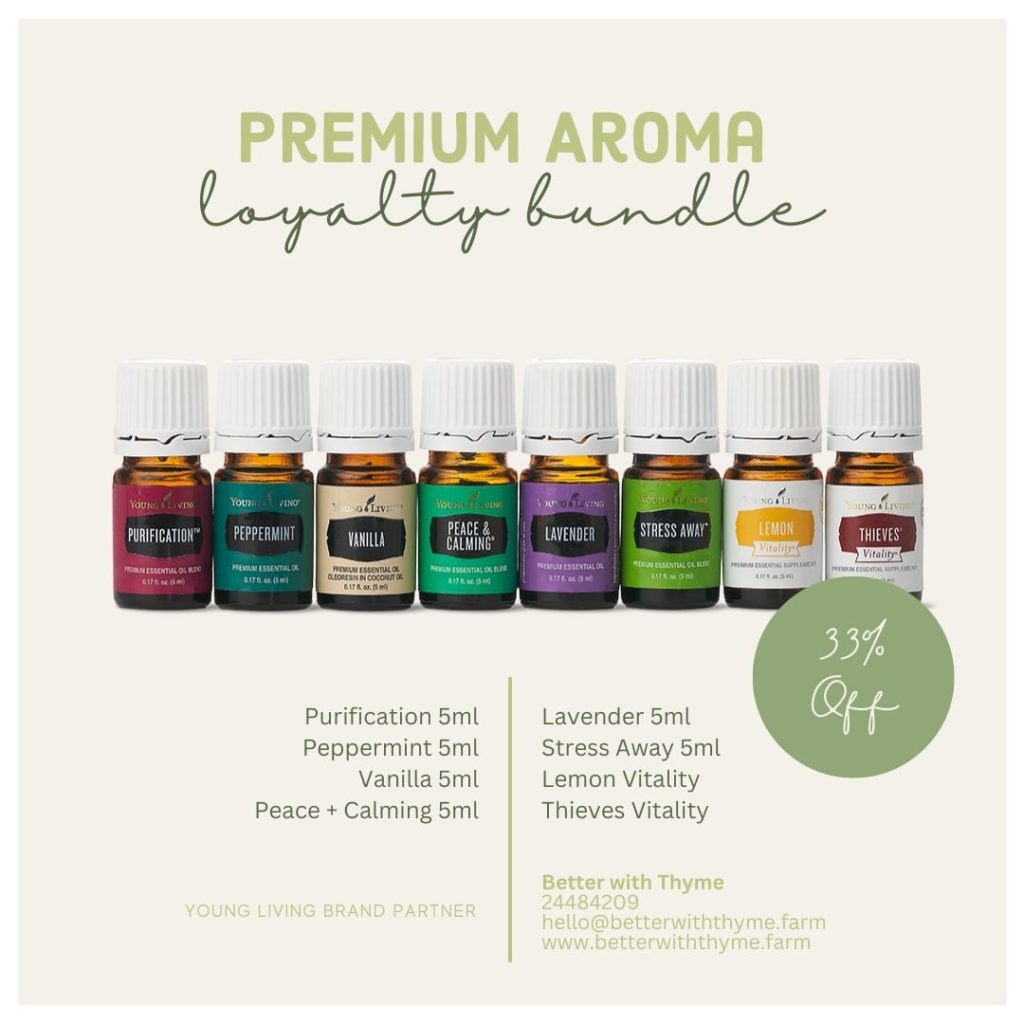 Essentials for a Cozy Winter Home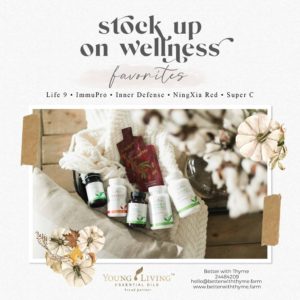 Winter is upon us, and this season often brings lots of gatherings and goings-on. We want to make sure we stay above the wellness line and enjoy this season to its fullest. Here are a few of our must-have products for doing just that!
Stress Away Roll-On: for a moment of calm whenever needed.
Thieves Roll-On: for all the immune support.
Pine Essential Oil: for festive aromas and immune health.
AlkaLime: to use after one too many glasses of egg-nog.
NingXia Red 2 pack: for daily energy & vitality
Christmas Spirit Foaming Hand Soap, 3pk: for festive scents & healthy, clean hands!
Learn more about all our other favorite winter essentials here:
November Diffuser Blends
If you're a current customer or brand partner, you can also access our team diffuser calendar with a new blend for every day of the month. Let me know if you need help finding it!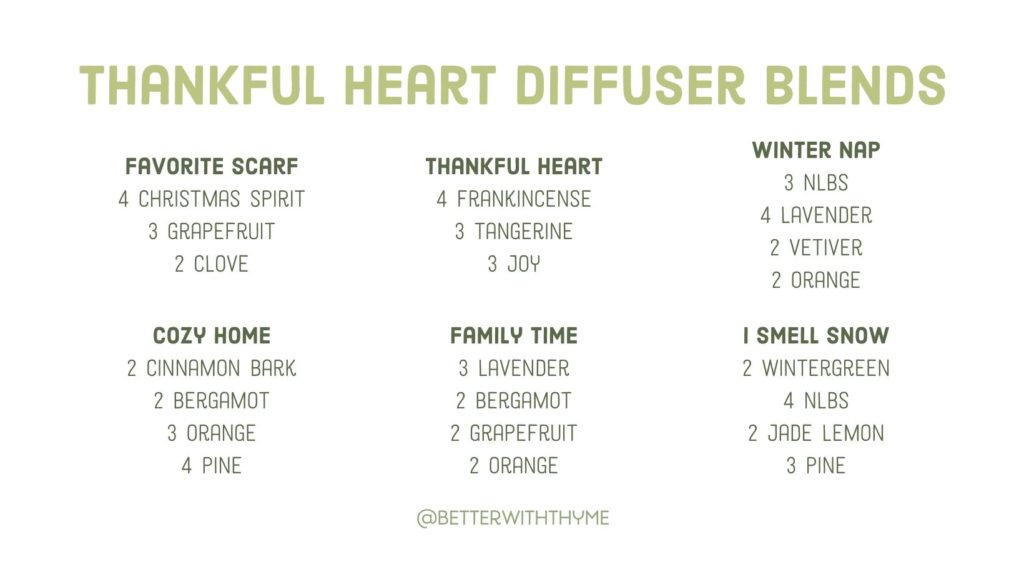 Let's DIY It Book Club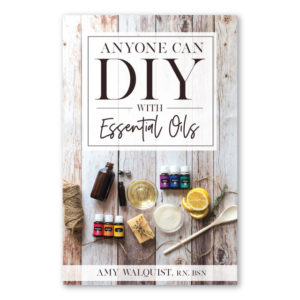 We all start at square one with our knowledge of health, but what matters is our willingness to learn and grow, and one great way to do that is through reading. This month we are focusing on simple ways we can switch out dangerous toxins in our lives for cleaner options!
"What would you do if you discovered the cleaning and personal care products you use daily on your body and in your home contain dangerous chemicals and toxins? In Anyone Can DIY with Essential Oils, Amy shares her wealth of knowledge about natural ingredients and affordable ways to swap out chemically toxic products with over 70 of her tried-and-true homemade DIY recipes. From household cleaning and personal care, to pampering and child-specific recipes, you are sure to find something that will help you on your personal journey of eliminating chemicals and toxins from your daily routines."
November's Gifts with Purchase
Swipe through to see all the gifts and ideas of how to use them!