June 2021
Gifts with Purchase
The sun is here and I couldn't be more excited! Enjoy summer adventures with June's gift with purchase.
Brighten your day with the refreshing aroma of Eucalyptus Globulus or apply Citronella before heading out for a hike to fend off outdoor annoyances. Spending a day at the beach? Combine Aroma Siez with a little V-6 and massage it into sun-kissed skin. Wind down after hosting another successful barbecue with the soothing aroma of Peace & Calming in an exclusive 15 ml bottle. Qualify today to claim these oils plus free shipping.
Father's Day Collection
Protectors give and give and give. From early mornings to late nights, these champions always look out for you. Show those at-home heroes how much you care with a complimentary diffuser and crisp, cool oils for Father's Day!
With the Dewdrop Essentials Collection, you can snag your guy a complimentary Dewdrop Diffuser along with icy Idaho Blue Spruce, nature-like Northern Lights Black Spruce, peppy Peppermint, and lively Lemon.
Dewdrop Essentials Collection
Complimentary Dewdrop Diffuser
Infuse the air with earthy, complex, or sharp-scented scents.
Combine Idaho Blue Spruce, Northern Lights Black Spruce, and Peppermint for an outdoor adventure scent or diffuse Lemon to brighten up any room.
Idaho Blue Spruce essential oil*, 5 ml
Use this straight-from-nature aroma as a cologne, perfume, or beard or hair oil.
Diffuse this stalwart scent to make any hideaway homey and smelling great.
Northern Lights Black Spruce essential oil*, 5 ml
Add a few drops to your favorite face cream to boost moisture.
Mix it with your shampoo to bring the sensation of mountain breezes to your morning shower.
Lemon essential oil, 15 ml
Snuff out stinky smells by placing an oil-infused cotton ball in your sock drawer or shoe closet.
Put a few drops on a rag to remove icky messes and sticker residue in a cinch.
Peppermint essential oil, 15 ml
Cool skin after working in the yard by combining a few drops with aloe vera gel.
Blend a drop or two with a small amount of V-6™ and rub it into tired muscles.
Basic Starter Kit Sale Extended
The basic starter kit is sale for $25 is extended, making it even easier for you help a friend get started. Do you need your link or any other help with enrolling a friend? Let me know!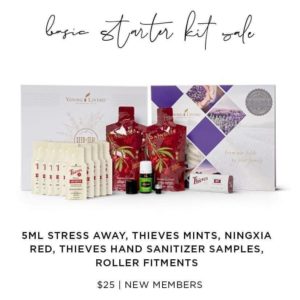 The Basic Starter Kit includes Stress Away essential oil blend + a roller fitment, 10 Thieves Hand Sanitizer samples, Thieves Mints and 2 NingXia Red samples.