December 2021
December's gift with purchase is packed with winter essentials for a fresh and festive home. Pine, Christmas Spirit, Winter Nights Foaming Hand Soap, R.C., Thieves, and Frankincense are yours when you place a qualifying order this month. Learn more about the essential oil goodies you can get below. Don't miss the Gardener's Hand Salve Recipe in the How to Use December's Gift with Purchase info below!
Merry Christmas!
XO Sarah
Gifts with Purchase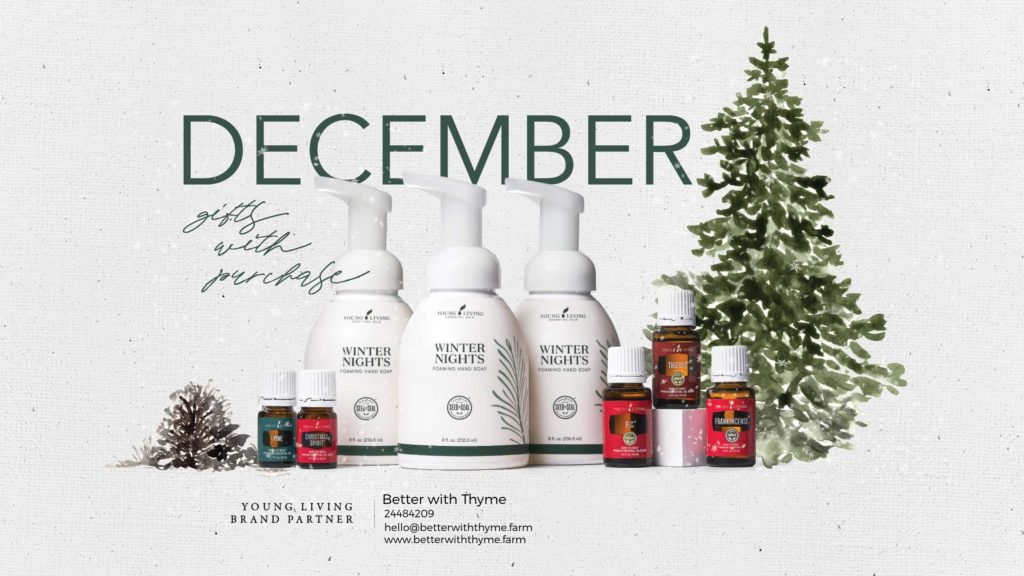 Every month this generous company loads us up with free items simply for being loyal customers. We purchase items we'd be buying anyway – toothpaste, lotion, shampoo, makeup, supplements and cleaning supplies, etc – from Young Living, and we not only get amazing, high quality products that are safe for our families, we get free products, free shipping, delivery to our doorstep and product credits galore! I am ALL about boxes of safe, effective and healthy products showing up in my mailbox with fun freebies inside!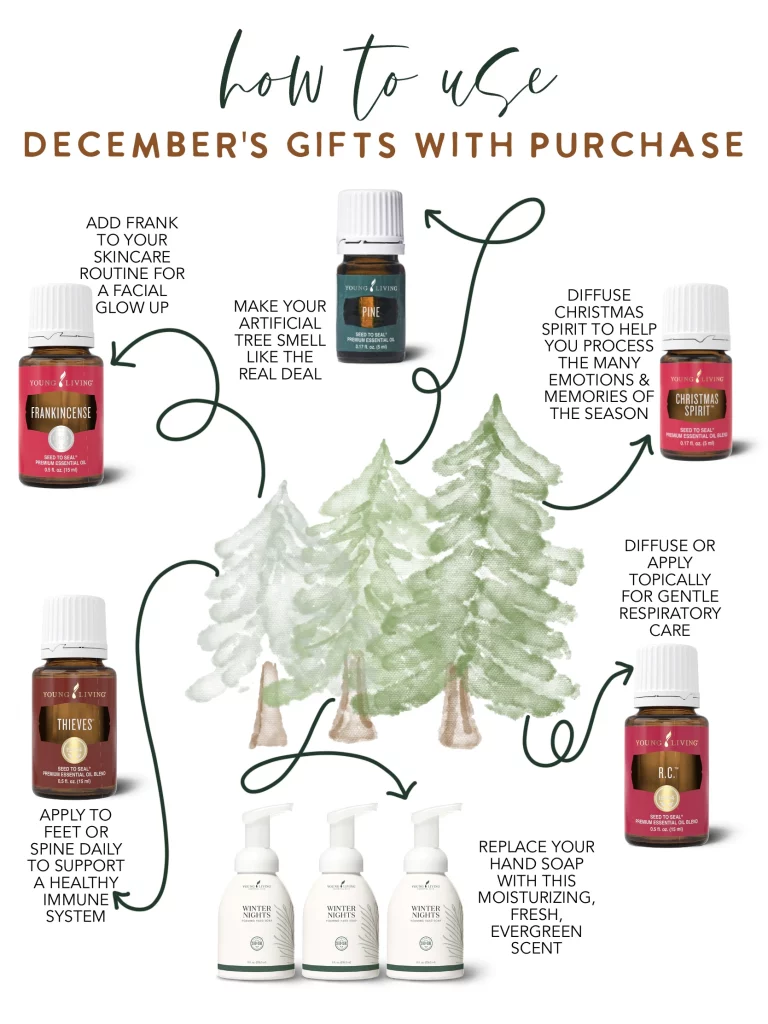 Christmas Spirit (190PV)
Christmas Spirit is a blend of evergreen, citrus, and spice—Northern Lights Black Spruce, Orange, and Cinnamon Bark—and is reminiscent of winter holidays to evoke memories of joy, happiness, comfort, and security. Orange essential oil has a bright aroma that is believed to bring joy, peace, and happiness to those who possess it. Cinnamon Bark essential oil is the oil of wealth from the Orient. Black Spruce essential oil has an aromatic influence that brings a feeling of balance and grounding. This is THE blend for the season, so no matter how you use it, make sure to have it around you this month!
Use this oil to help you processes any grief or negative memories from years past.
Make a festive room spray:

2oz glass spray bottle
20 drops Christmas Spirit
10 drops Pine (optional)
Splash of witch hazel
Fill with filtered water

Add 20 drops of Christmas Spirit to your Thieves Cleaner for a festive twist!
Add Christmas Spirit to your bath and shower gel or lotion for an instant boost of cheer and happiness!
Use this incredible oil blend to make DIY Beeswax Candles to fill your home with the warmth of the season – and make a few for your friends and neighbors!
Make a Greenery Spray to refresh fresh wreaths and garlands all season long. You can also use this as a room or upholstery spray!

Greenery Spray

To a 2oz glass spray bottle add:
25 drops Christmas Spirit
10 drops Pine
5 drops Clove
A splash of witch hazel
Fill with filtered water

Add Christmas Spirit to wool dryer balls and Thieves Laundry Soap for a festive twist and cozy sheets.

Use Christmas Spirit to make the DIY Laundry Scent Booster listed below! This is also a fun handmade gift for a new homeowner or homemaker, especially paired with Thieves Laundry Caddy or a diffuser and your favorite diffuser blend!

Drop Christmas Spirit onto any porous decor for a passive diffuser! Think pine cones, wood slices, wooden trees, greenery, lava beads, etc. Just make sure to test an area for discoloration or place on the underneath of your decor.

Alternatively, drop Christmas Spirit oil onto cotton rounds, tissues or small cloths and place in inconspicuous places – the bottom of waste cans, in air vents, inside drawers, etc.

Use Christmas Spirit in any of your favorite DIYs – sugar scrubs, coffee scrub, body butter, etc. Check out the Holiday Handbook Resource for lots of great DIY ideas!
Diffuse this blend that is perfect for the season:

Mulled Cider: Christmas Spirit, Grapefruit, Clove, Lime
Tis the Season: Christmas Spirit, Pine, Tangerine
Winter Wonderland: Christmas Spirit, Vanilla
Winter Nights Foaming Hand Soap, 3 pack
Make the brisk winter air come alive with the scent of Winter Nights Foaming Hand Soap, which is designed specifically for the winter season!
Place a Winter Nights Foaming Hand Soap in the guest bathroom for a festive twist.
Place at the kitchen sink to bring out the scent of the season every time you wash your hands.
Pair with a festive dish towel and a fresh rosemary plant for a meaningful host gift.
Pair with a bottle of Thieves Household Cleaner, a bottle of Christmas Spirit essential oil and a 16oz glass spray bottle for a wonderful natural home gift!
Pine (190PV Subscribe to Save)
Pine essential oil is an underrated one for sure. This tree oil has an uplifting aroma that creates a breath of fresh air anywhere you use it, encourages feelings of positive energy, repels the influence of negative energy, and has some really unique and incredible health benefits (check out PubMed for more on that!)
Make scented fire starters for your cozy winter home and to gift to friends and neighbors!

Scented Pinecone Fire Starters

Yarn or twine
Large, foraged pinecones from the yard
Thieves Household Cleaner
Pine or Christmas Spirit essential oils
Collect pine cones and lightly spritz them with diluted Thieves Household Cleaner to get rid of any unwanted pests. Allow to dry overnight.
Wrap twine or yarn around the pinecones, all the way into the center weaving between the individual scales. You can use festive, colorful yarn for a fun twist or neutral yarn or twine.
Drop 5 drops of essential oil onto the yarn/twine of each pinecone. Place in a basket beside the fireplace and add a few to the fire whenever you build one.

Make your artificial tree smell like the real thing with these simple hacks:

Add Pine to reed diffuser sticks and place in your tree
Drop Pine onto any porous ornaments
Make a simple DIY Tree & Garland Spray and spritz on greenery as desired:

To a 2 oz glass spray bottle add
30 drops Pine
Optional: 15 drops Idaho Blue Spruce or Northern Lights Black Spruce
Splash witch hazel
Fill with filtered water

Make and gift (or keep and use!) this incredible Gardener's Hand Salve for anyone who works with their hands.

DIY Gardener's Hand Salve

½ cup cold pressed organic olive oil (or 1 cup if not using arnica oil)
½ cup organic arnica oil
1 Tbsp shea butter
3-4 Tbsp beeswax pastilles
30 drops essential oils: Myrrh, Frankincense, Lavender, Patchouli, Pine
Using a double boiler, place several inches of water in the bottom and place a bowl or pan on top. Turn the heat to low-medium and add the olive oil, shea butter, coconut oil & beeswax and allow it to melt, stirring gently.
Remove the bowl from the double boiler. Add Vitamin E oil and essential oils.
Allow the mixture to sit for a few minutes to cool but not harden, then pour into the small containers.
Essential oils to add for a masculine scent: Sandalwood, Vetiver, Idaho Blue Spruce

Whether your winter skin needs some TLC or you have a more acute need, make this 'Ultimate Skin Healing Balm' and use it frequently and liberally! Use whatever oils you have that are listed.

Ultimate Skin Healing Balm

To about 1/4 jar of Rose ointment add:
10 drops Pine
8 drops Helichrysum
8 drops Myrrh
4 drops Frankincense
4 drops Lavender
Apply to needed area(s) 2-5 times a day. Frequency and consistency are crucial for these big needs!

Make a simple cuticle oil! This also makes a great gift and pairs well with the Gardener's Hand Salve:

DIY Roll-on Cuticle Oil

1½ teaspoons V-6 Vegetable Oil Complex
10 drops Pine essential oil
5 drops Frankincense essential oil
Add all the above to an empty 15 ml essential oil bottle and add an AromaGlide Roller Fitment. Roll onto your cuticles anytime, anywhere.

Use Pine in DIY cleaning products for a fresh, sparkling home.

Add 20 drops to Thieves Cleaner (option to add 20 drops of Lemon as well)
Make a DIY Wood Polish

1 cup Olive oil
5 drops Pine essential oil
5 drops Lemon essential oil

Diffuse Pine during meditation for a grounding and empowering experience. Pair it with Cinnamon bark, Tangerine, Frankincense, Christmas Spirit or Vanilla.
Take a relaxing epsom salt bath with Pine. Add 20 drops to 1 cup epsom salt and soak in warm water.
Add 5 drops to a large handful of massage oil and apply to the skin to relax tired muscles. Or whip up a DIY Massage Oil:

4oz pump bottle
20 drops Pine essential oil
10 drops Peppermint essential oil
10 drops Cypress essential oil
Carrier of choice

Use Pine to make any of the DIY Cleaning Recipes below or mix it with Lemon or Thieves.
Use this earthy tree oil blend to make DIY Beeswax Candles to fill your home with the warmth of the season – and make a few for your friends and neighbors!
R.C. (250PV)
R.C. essential oil blend is a powerful combination of Cypress, Spruce, and three types of Eucalyptus oils (E. citriodora, E. globulus, and E. radiata – making it an all time favorite for the winter months! The initials stand for respiratory care, as this oil feels like a deep, cleansing breath.
Make a DIY Chest Rub:

1 cup solid coconut oil
30 drops R.C. essential oil
20 drops Frankincense essential oil
10 drops Peppermint essential oil
Mix well and use on the chest, back and neck as desired. Option to whip with a handheld or stand mixer for a fluffier consistency. You can also sub shea butter for some of the coconut oil for a more moisturizing formula.

Add 15 drops of R.C. to a cup of magnesium flakes or epsom salt for a relaxing bath.
Place drops of R.C. onto cotton rounds or small cloths and place them in inconspicuous areas of your home, office, even car!
Make a DIY Mattress & Linen Spray to use every time you make the bed or change the sheets

To an 8oz glass spray bottle add:
1 tsp Thieves Household Cleaner
20 drops each R.C., Lavender
10 drops Tea Tree
Fill with distilled water and invert to gently mix.

Add R.C. to wool dryer balls and Thieves Laundry Soap for fresh-scented laundry.
Make DIY Scented Sachets to bring a fresh, spa-inspired aroma to any area of your home.

½ cup uncooked rice
¼ cup Epsom salt
1 cup dried lavender buds
Muslin cotton drawstring pouches, approximately 5 inches long by 4 inches wide
40 drops R.C. essential oil

In a medium bowl, mix rice, Epsom salt, flower buds, and essential oil to thoroughly scent the mixture.

Spoon mixture into your muslin pouch.

Place anywhere you want to add a fresh lavender scent.

Refresh your pouch every 2─3 weeks by opening it up and adding more drops of essential oil.

Use R.C. to make DIY Laundry Scent Booster:

To a large glass jar with airtight lid, add
1 1/2 cup salt Epsom Salt
1/2 cup baking soda
30 drops R.C. essential oil blend
Optional: 15 drops Thieves essential oil blend
Whisk together until all ingredients are well combined.
To use: add 1-2 Tbl into the washer before adding any laundry. Add laundry and the normal amount of laundry detergent.

Use this purifying blend to make DIY Cleaning Fizzies for yourself or a handmade gift.

1 cup baking soda
½ cup citric acid
½ cup cornstarch
4 teaspoons water
40 drops R.C. essential oil (or Thieves or Pine)
3 teaspoons V-6 Vegetable Oil Complex or other carrier
Ice cube tray or candy mold
Step 1) In a large bowl, combine all dry ingredients and mix evenly.
Step 2) In a separate bowl, combine water, essential oils or blends, and V-6.
Step 3) Pour liquids into the large bowl and mix together until combined.
Step 4) Use the mixture to fill an ice cube tray or candy mold about three fourths full. If the mixture expands and spills over the mold, gently repack into the mold.
Step 5) Let sit overnight to dry in a room temperature area. When dry, pop tablets out and store in a glass jar.
To Use: When needed, put a tablet in the toilet bowl, hard-to-clean bottles, or sink full of dishes to help clean and deodorize. Let sit in the bowl, bottle, or sink for 20–30 minutes to fizz and dissolve. Once dissolved, flush or rinse out.

Make a DIY Carpet & Rug Freshener:

To glass jar add:
1 cup baking soda
½ cup salt
40 drops R.C. essential oil (or Thieves or Pine +/- Lemon)
Mix well. When ready to use, sprinkle over carpets and let sit for 10 minutes before vacuuming.

Make an Herbal Deodorizing Spray for pet beds, upholstered surfaces, car upholstery, etc!

To a 4oz glass spray bottle add
¼ cup white vinegar
20 drops R.C. essential oil
10 drops Lavender essential oil
10 drops Tangerine essential oil
5 drops Peppermint essential oil
Pinch sea salt or splash of witch hazel
Filtered water
Spray lightly onto surfaces to remove unwanted odors.

Diffuse this spa-inspired oil blend anytime your lungs need a little TLC or you need a quick trip to the spa! Bonus points for adding R.C. to the diffuser during a bath or shower to allow the steam to help open airways even more

Breathe Easy: R.C., Thieves, Peppermint
Relax: R.C., Lavender, Lemon
Gather Together: R.C., Tangerine, Lemongrass
Goodnight Moon: R.C., Lavender, Thieves
2021: R.C., Pine, Thieves, Lemon
Thieves (300PV)
Thieves essential oil is a legendary blend of purifying essential oils, Clove, Lemon, Cinnamon Bark, Eucalyptus radiata, and Rosemary, known for immune support and cleansing properties when taken internally. This oil is definitely one we want to have on hand this time of year!
Make a Daily Wellness roller:

20 drops Thieves
20 drops Pine
20 drops Lemon
10 drops Frankincense
10 drops Oregano (optional)
Fill with carrier oil of choice
Apply over lymph nodes, along the spine, on the bottom of the feet a few times a day or more as desired.

Add a drop of Thieves to your toothpaste or mouthwash for naturally fresh breath.
Make these Detox Bath Salts to use all winter long and to gift to those you love:

1 cup magnesium flakes
½ cup epsom salts
30 drops Thieves essential oil
Optional: 10 drops Lemon essential oil
Optional: dried lavender, rose buds, rosemary
Add to a glass jar and mix well. If gifting or storing add ¼ cup baking soda or Himalayan salt to help prevent clumping.

Use this spicy-sweet blend to make DIY Beeswax Candles to fill your home with the warmth of the season – and make a few for your friends and neighbors!
Dilute and apply to the bottoms of your kids' feet in the morning and for a great day at school.
Add a few drops to your dishwater or dishwasher to eliminate odors and boost cleaning.
Use Thieves + Orange to make the Scented Pinecone Fire Starters above!
Add a drop of Thieves to a cotton ball and place it in a zip top bag with holiday cards to infuse them with the scent of Thieves.
Make Oil-infused Bottle Brush Trees with Thieves oil!

Large pitcher or jar (big enough for your trees)
Distilled water
Witch hazel
Thieves, Christmas Spirit, Pine essential oils
Fill the jar or pitcher almost full of water and add a splash of witch hazel. Add about 20-30 drops of oil and stir with a silicone or metal spoon. Hold your tree upside down for about a minute in the water, then take it out and let it air dry!

Make any of the DIY Cleaning Recipes above using Thieves or a mix of Thieves, Pine, R.C. or other favorites.
Add 3 drops of Thieves to organic wool dryer balls for festive laundry!
Add a drop of Thieves (Vitality) to coffee grounds before brewing for festive coffee or to hot cocoa for a spicy twist. (*Thieves Vitality and Thieves are the same oil.)
Make a Thieves Tea to sip on before bed for an immune boost:

Large mug
Line with honey
Add a drop of Thieves Vitality*
Optional: add a drop of Lemon Vitality*
Pour warm water over and stir gently.
*Note: Thieves Vitality and Thieves oil are the same. Lemon Vitality and Lemon oil are the same.

Diffuse this spicy-sweet blend all season long, and especially during and after gatherings!

Fresh Air: Thieves, R.C., Tangerine or Orange
Sleep Tight: Thieves, Lavender, Vanilla
Lemon Cake: Thieves, Lemon, Vanilla
Blueberry Pie: Thieves, Valor
Frankincense (400PV)
Add Frankincense to your on-the-go wellness kit for the literal bumps in the road and make this simple, but effective 'Pavement Spray'. The best part about this is that you don't have to rub it in onto tender skin!
Pavement Spray:

To a 2oz glass or stainless steel spray bottle add:
10 drops Lavender
10 drops Frankincense
5 drops Myrrh or Helichrysum
5 drops Tea Tree or Melrose
Fill with fractionated coconut oil
Spray onto knees, elbows, any skin that needs some TLC.

Aromatically, it encourages spiritual awareness and is uplifting, making it a wonderful addition to morning prayer, meditation or other mindfulness practices.

Diffuse with Frankincense and Tangerine.
Apply a drop to the wrists and over the heart.
Apply a drop to the crown of the head.

Make a Meditation Roller to use during spiritual practices or even to help focus the mind:

Meditation Roller:

To a 10mL roller bottle add:
15 drops Frankincense
10 drops Cedarwood
5 drops Peppermint
Fill with a carrier of choice. Apply over the heart, back of the neck, on the wrists liberally and frequently.

Add to your favorite skincare products! Frankincense is an incredible skin oil.
Add to your Orange Blossom, Bloom or Art Light moisturizer.
Make this DIY Glow Up Beauty Serum:

4oz glass dropper bottle
Jojoba or argan oil for carrier
30 drops Frankincense
30 drops Blue Tansy
10 droppersful CBD Beauty Boost (optional)
Any other skin-loving oils: Royal Hawaiian Sandalwood, Myrrh, Manuka, Rose

For extra glowy skin, add a roller top directly to your Frankincense and roll it over your face every evening before bed! (Note, if you're very new to essential oils, we'd recommend diluting a bit.)
There is a reason Frankincense was given to Jesus (and Mary!) upon His birth. Frankincense is an incredible oil for supporting skin and tissue during times of injury, and such a gift to new mamas. Use this oil for a relaxing and healing bath (or sitz bath) no matter whose skin needs some help.

Healing Bath Soak:

To about ¼ cup epsom salt add:
3 drops Frankincense
3 drops Myrrh
1 drop Helichrysum
Optional: 1 Tbsp organic arnica oil
Sit and soak for 30 minutes or as long as desired

Make and gift (or keep and use!) the Gardener's Hand Salve (recipe above!) to anyone who works with their hands.
Add a drop of Frankincense to Thieves Mouthwash for excellent oral health or add a drop of Frankincense to 1 Tbsp of organic coconut oil for oil pulling.
Make a daily perfume or cologne roller with Frankincense:

Frankincense, Tangerine, Jasmine
Frankincense, Lavender, Tangerine, Vanilla
Frankincense, Vetiver, Bergamot

Make a daily Gratitude Roller:

10 drops Valor
7 drops Orange
5 drops Frankincense
5 drops Joy
Top with a carrier oil and roll on liberally + frequently!
December Share YL Giveaway
This month we want to focus on how ridiculously easy and natural it is to share about things that you love. And we've got $500 dollars in account credits and an Aria diffuser to give away! There will be 10 account credit winners (10 winners, $50 each) and 1 aria winner!
We have allll got that friend or family member who has asked us about oils, is constantly stealing our rollers, asking to use our Thieves or White Angelica, asking us to make them stuff, orrrrrr you just look at them and think "OH MY GOSH do you need oils in your life." Right? Right. Got that person (or 10 lol) in mind? Let's help them get wellness into their lives. It's so simple. Someone asks about oils? Send them your Share YL Link!
Did you post about how Thieves Chest Rub kicked your cough and cold? Include your Share YL link in the post! Grab your link in your Young Living account from the "Share YL" tab! Ask me how if you don't know how to find yours.
HOW TO ENTER?
+ Every time you share on social media about Young Living, use the hashtag #DreamersShareYL – that gets you an entry for the Aria!
+ Help someone use your link and when they order 50pv of YL products, you get an entry to win one of the cash prizes